Sustainability isn't just a philosophy we subscribe to, it's an ongoing practice that extends far beyond just our farming. While it certainly is about the land, it's also equally about our people, our community, and our establishment.
Our Vineyards

Flying B
Our most recent development in Walla Walla and the estate vineyard that surrounds our Doubleback winery facility. Flood sediments overlay river cobbles that stress the vines later in the growing season and sit from 990 to 1,015 feet in elevation. One of our favorite aspects of this vineyard is that it sees the highest temperatures of all of our estate sites, but also the lowest - enormous diurnal temperature swings that create truly unique wines. We absolutely love this site's ability to balance out these warmer vintages that we are experiencing.

LeFore
Originally planted in the late 1990s, this vineyard is on the eastern side of the Rocks District of Milton Freewater, a sub-AVA of the Walla Walla Valley. This vineyard is the backbone of our Stolen Horse Syrah, but has also produced some incredible White Label wines over the years for our loyal wine club members including Viognier and Cabernet Franc.

Bob Healy
The second vineyard that we have in the renowned Sevein Development. Bob Healy sits in the heart of the hill, is one of our warmest vineyard sites, and produces red fruit driven Cabernet Sauvignon, and incredible Malbec. Surrounded on all sides by tons of lavender plants, wildflower mixes, trees, and other biodiversity areas that we rotate, the site is absolutely gorgeous and a great representation of our commitment to sustainable agriculture.
Loess
The first vineyard that Josh ever worked in and is the estate vineyard around famed Leonetti Cellar. Named after the wind deposited "loess" soils that cover the site, we work with Syrah, Viognier, and Cabernet Sauvignon here on the West facing slope. Walking the vineyard blocks, you can't help but smell the aromatics of the beautiful and fragrant lavender plants that cover the property.
Seven Hills
A true historical powerhouse in the Walla Walla Valley, Seven Hills Vineyard is on the southern end of the AVA and sits right below our own estate, Bob Healy Vineyard. We pick different blocks of Cabernet Sauvignon from here and they are usually the first to ripen. Red fruit, dried herbs, and perfect ripeness are always highlights of this vineyard.
Kenny Hill
Quintessentially Walla Walla for natives, driving up Mill Creek Road reveals the "cooler" side of the Walla Walla Valley where Kenny Hill Vineyard sits around 1,500 feet in elevation. We specifically sought out this area to grow the style of Chardonnay that we love, and now also work with Syrah for both Healy Rosé and Stolen Horse. We love this vineyard for its ability to maintain freshness and balance in the wines while not sacrificing ripeness.
Our People
"A huge part of farming sustainably for us is taking care of our people. As an example, at the end of 2018, we hired our own farming team and began working our vineyards ourselves. Drew and I committed to being leaders of compensation, with full retirement and health benefits while also employing people year round, as most people are left without work after the growing season. We felt this was the right thing to do but it has also been incredible to see the qualitative improvements in our vineyards because of the culture we have created and pride our team takes in growing our wines." - Josh McDaniels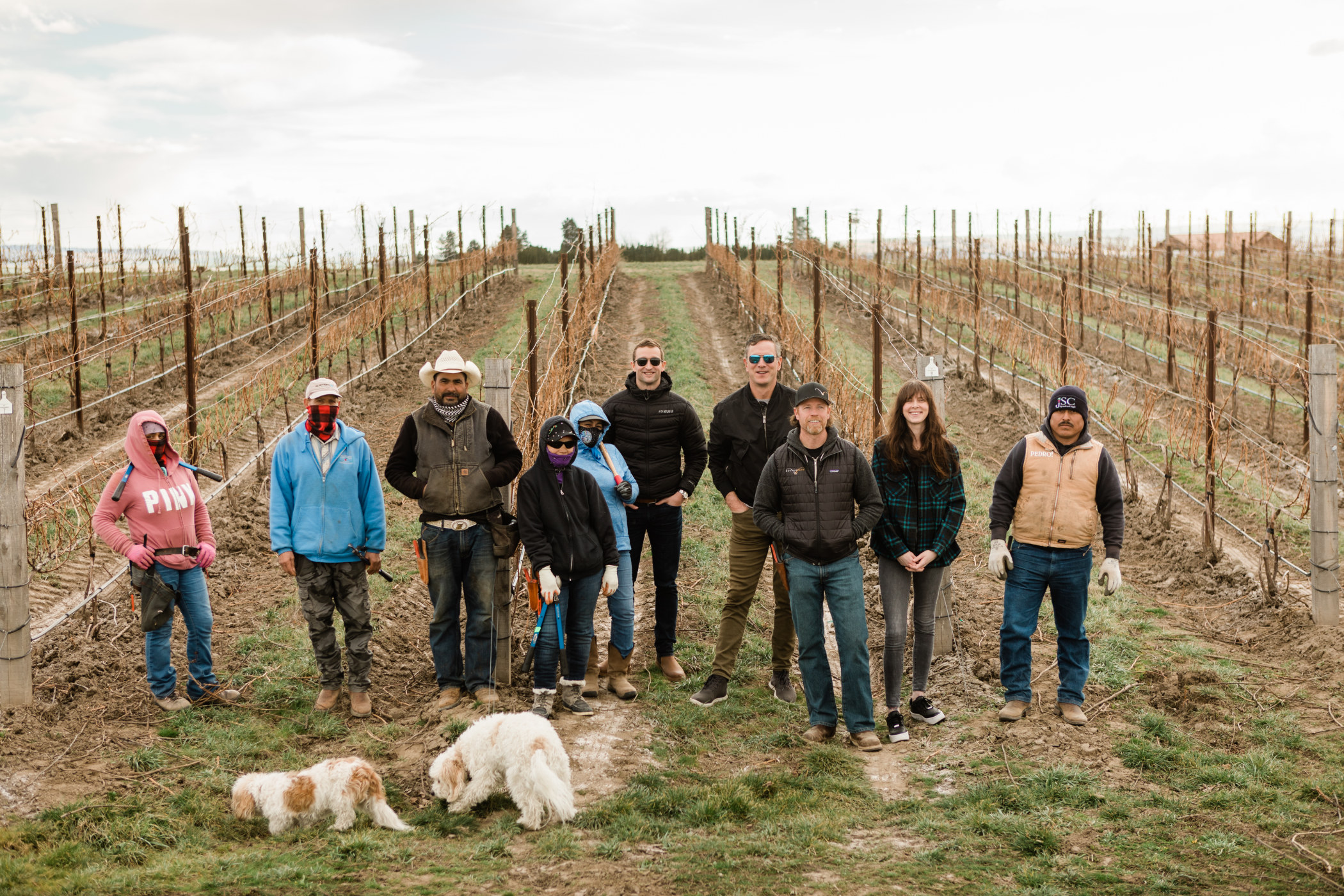 Our Community
Not unlike every other aspect of our winery, ensuring we carve out time and prioritize our community has always been imperative. Through charitable campaigns, active involvement, and time carved out for our teams to volunteer time, we believe that it is our responsibility to give back to the hometown that raised us.